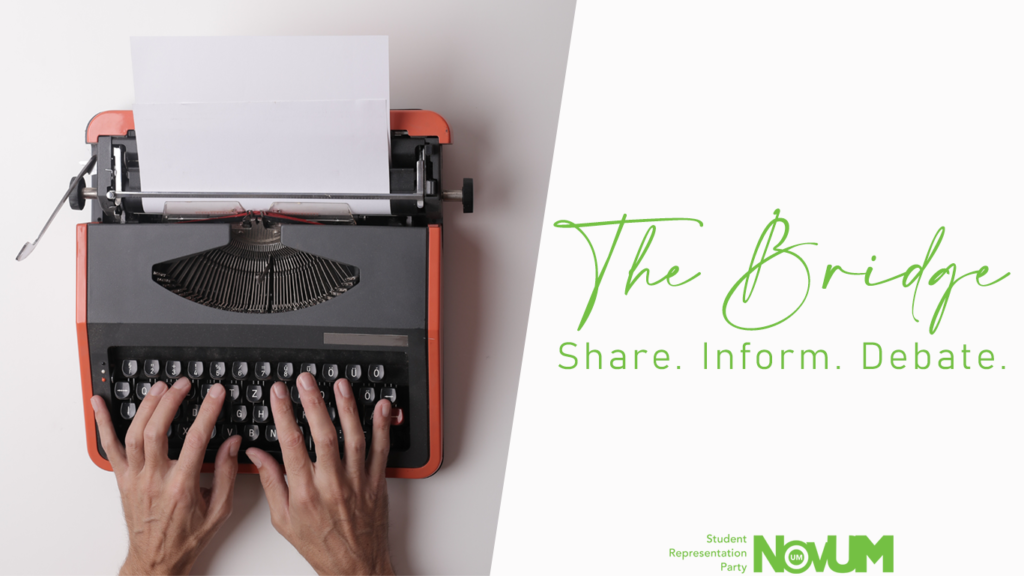 The Bridge is a platform created and administered by our student party to connect with the students of UM and form a spirit of community and contribution. Each month, contributors write a text to tell you about their opinion, an event they have found interesting, … It is pretty free! If you too would like to share your texts, contact us
All views expressed in these articles are the writers' own and do not represent NovUM's official or unofficial position.
---
Introducing 89 Netherlands
Hi, we're 89 Netherlands and we'd love to meet you!
It's not easy being the new organisation on campus but fortunately NOVUM has welcomed us to the table. By the end of this article we hope to introduce ourselves and of course, extend the invitation to get to know more about you as well!
So hi- we're 89 Netherlands, the Dutch chapter of the first pan-European think-do tank, 89 Initiative. 89 Initiative started at the London School of Economics with the goal of addressing Europe's most pressing issues through the power of research-backed policy suggestions. We represent an international network of universities, civil society organisations, and academics who got tired of doomscrolling through upsetting subject matter and decided to do something to change our realities.
We're based at universities and other research institutions in London, Scotland, Bruges, Brussels, Poland, Greece, Spain, and now the Netherlands! We work on a variety of issues through the research programmes taken up at our various chapters. Our programmes include Climate, Democracy, Migration, Health, Innovation, and Civic Education. We not only work hard to conduct research in each of these areas from the perspective of the localities where we are based but we're action-oriented. Our research fuels policy advice, which we in turn present to local, national, and EU-level policymakers at our annual conference in the spring!
As one of the newest chapters, 89 Netherlands is partnered with Studio Europa Maastricht, a centre of excellence for research about Europe. In our partnership, we hope to bring together the diverse expertise of our researchers with the goal of creating research-informed policy advice in the fields of democracy and climate.
It's not just policymakers who interest us, though! We know that addressing existential threats like the Climate Crisis or prolific challenges, like the COVID-19 pandemic requires all hands-on deck. The experiences, ideas, research, passions, and talents of communities, researchers, students, and many others are also vital to our mission. In the end, we think that all of us have similar goals too- a greener, freer, fairer world where common issues are addressed collectively, where silos are dismantled, and we all benefit.
This is where you come in, dear reader. Let's come together and share ideas, research, concerns, and brainstorm about ways to move forward! We'd love to meet you in person or virtually at our launch event on 22 November. There we will officially present our organisation and detail our two research programmes on Democracy and Climate. You will also have the chance to meet our team headed by myself, Akudo McGee as well as our Democracy programme research director, Dr. Christian Scholl from MSI, our Climate programme research director, Dr. Serdar Türkeli from UNU-Merit, Studio Europa programme maker, Annelies van Rijen, and your peers- our new team of student research officers! The event will focus on addressing the climate crisis on all levels (local, regional, national, and international) and how to have a just, sustainable transition at the local level, bringing together several organisations, industry, researchers, and policymakers.
If you'd like to come, we'd love to have you! The event will be on campus if you can come in person (the bonuses are tasty vegan food and a festive atmosphere!) but live-streaming is welcome too. More details will be forthcoming so keep an eye on our social media and the NOVUM site too! If you have an idea for how to get involved or how we can elevate the climate or democracy goals of your organisation, please don't hesitate to reach out, our (virtual) door is always open- find us on Twitter (@89Netherlands) or shoot an email over to netherlands@89initiative.com!