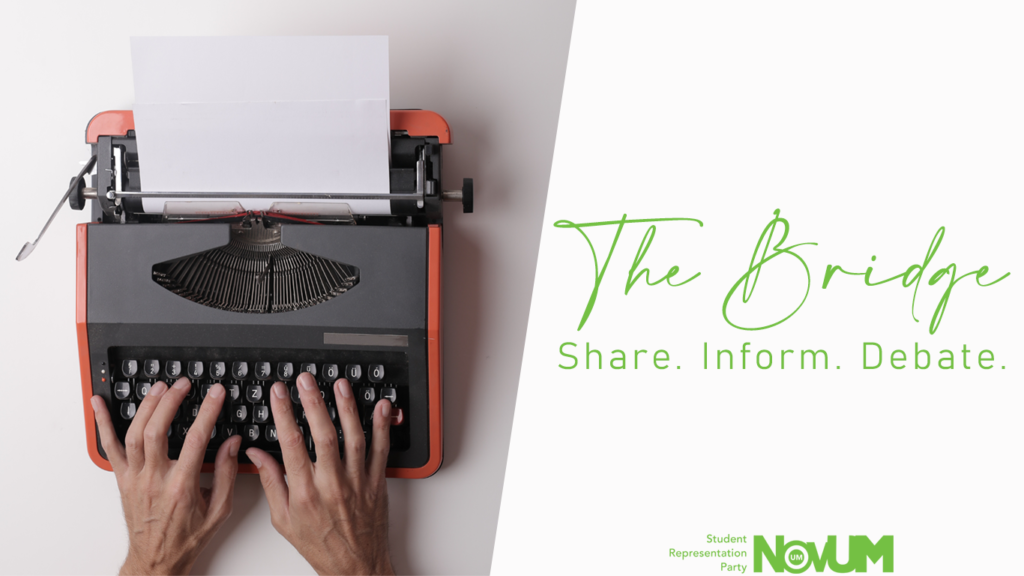 The Bridge is a platform created and administered by our student party to connect with the students of UM and form a spirit of community and contribution. Each month, contributors write a text to tell you about their opinion, an event they have found interesting, … It is pretty free! If you too would like to share your texts, contact us 😉
All views expressed in these articles are the writers' own and do not represent NovUM's official or unofficial position.
---
The end is in sight- but this phase of the pandemic brings new challenges, especially for students
Without wanting to sound self-pitying, the academic year 2020-2021 has probably been one of the hardest years to be a student in Europe in modern times. I do not need to tell you how much of a struggle it has been slaving away behind a laptop for over a year, deprived of the little things that once kept student life light-hearted and interesting, like parties, catching up with friends during a coffee break while studying at the faculty, and even exchanging grimaces with a stranger in a tutorial when the tutor asks who has done the reading. Not to mention the added stress of several months of being expected to know the same content with half as much teaching, proctored exams for some and countless technical difficulties for others.
We experienced a rush of hope in November when the news broke that vaccines had been found. 'Surely' we thought 'this must be nearly over'. I was even naïve enough to think we might have a normal Spring. But alas, the development of vaccines was far from the magical happy-ever-after for which I had optimistically dared to hope. By March we were still living with Zoom tutorials and curfew, watching the number of vaccines crawl up and wondering if this would ever end.
In a way, at least for me, the knowledge that there were now vaccines and an exit plan out of lockdown only made it more tantalising. This feeling has only intensified as restrictions start to lift- but very gradually. This is why I think, in its own way, this (hopefully final) phase of the Covid-19 crisis is as challenging a time to be a student as the height of the crisis when we were locked away in our rooms totally deprived of the student experience as we knew it. The sense of acceptance of a new reality was destroyed by the promise that one day soon everything would be okay- by the old definition of 'okay'- and replaced by a sense of impatience for things to hurry up and be okay. As restrictions gradually lift, it is harder and harder to find the discipline to keep them- it is all too easy to think 'what's one extra person? We're allowed to hang out in groups now anyway' or 'we're allowed to drink in bars so what's wrong with small parties? What's the difference?', or evem 'The situation is fine anyway- what's the harm?' But there is a reason for the incrementalism- we are not out of the woods yet. With new strains mutating and many countries still ravaged by the virus, it remains a grave threat in our globally interconnected world. Even though it may be more tempting than ever to bend the rules, we are now in a race between herd immunity and the evolving virus, and it is crucial that we all cooperate and take care in the meantime.
Anonymous
---
Fashion trends in the pandemic: What will you wear this season?
A recent YouTube video discussed whether the height of shoes correlates with economic climate. The creator put forward evidence about how during every economic recession the size of the heel becomes higher, while in times of prosperity flat shoes become the norm. The reason is that during a financial crisis people are looking for ways to distract themselves and they are more inclined to purchase extravagant outfits as means of escapism.
2008's shoe fashions may present an argument confirming this hypothesis: the wedge-sneakers of Isabel Marant, the Alexander McQueen's platform 'horseshoe' in every size and color made popular by Lady Gaga in the video 'Bad Romance', or the favorite of every high-school girl, the 'Lita' ankle boots by Jeffree Campbell. These trends were not surprising by any stretch of the imagination, as 2008 marked the crash of the US housing market, which heralded one of the biggest global recessions since the Great Depression in 1928.
2011 saw a rise in the popularity of flat shoes, such as the Stuart Weitzman flats and ballet pumps, worn everywhere else. It seemed that wearing very high heels became kitschy and was reserved for special occasions. It was observed that society at large believed that displaying wealth or excess was in bad taste, since there was an international uproar against financial institutions as well as a growth in social movements, most notably 'Occupy Wall Street'. Thus, the theory seemed to apply. On the other hand, is this theory applicable to a pandemic as well? Can fashion trends reflect health crises?
An argument that can be put forward is that a similar phenomenon is observed in 2020. The necessity of wearing masks resulted in the production of different designs, ranging from colorful, to bedazzled or neutral. Individuals invented new ways to escape the pandemic and were expressing themselves through their protective gear.
The heel size noticeably increased, the wedge being this season's it shoe, according to Instyle magazine. According to British Vogue, the shoe trends in autumn/winter 2021 include different medium- to high-heel boots in metallic colours, with rhinestones and other eccentric details, like Balenciaga's armoured boots, the Gucci logo sock-boots and the Prada metallic high heeled boots.
Returning to our main hypothesis, the increase of the heel size indicates a recession. It is a widely held opinion that we have entered an economic crisis, although the starting point is debatable. Thus, it seems that we are trying to distract ourselves again and our shoes are a tool in accomplishing this. Can we blame the fashion industry for our desire for escapism? In a free market, the forces of supply and demand are interconnected, so consumers determine the trends. On the other hand, is this focus on consumerism the direct influence of marketing on a society that lives on the Internet? From my perspective, it makes more sense to buy a pair of shoes than to create a new social media account. Perhaps the best alternative remains to engage with the "real world" as opposed to escaping it, no matter how difficult it might seem. Confronting one's issues and setting worthwhile personal goals can ease the suffering. What will you wear this season?
Ioana Petrescu
---
Reflecting on NovUM's achievements before the 2021 council elections
My name is Charles de Groot, candidate for the University Council at the second position on NovUM's list. By the time you are reading this the election results will have already been announced. So, to all of you, I say "hi" from the past. Today, 11th May 2021, after a challenging year for many students, I took it upon myself to give it our best to make NovUM a party worth voting for; one that strives for progressive change, whether that be by fighting for a 24/7 student mental health call centre or by implementing free period products in all university facilities.
Without knowing the result of the elections, I believe that these issues are worth fighting for. Whether we do increase our vote share and number of seats in this year's election will only be determined by the quality of our candidates and the board that has been one of the most active in years. From making connections with municipal parties to establish a direct line of communication on the issue of housing, to joining meetings with the rector to elaborate our concerns and propose solutions regarding student well-being, NovUM has been active all year around. I know that this has also been observed by more students than ever, even though the majority does not care about student politics- this year, NovUM has managed to grow from 160 Instagram followers to more than 430.
This fact makes me extremely proud as I believed that Maastricht University lacked representation for a progressive, social democratic student like me. At last, we have been successful in creating this group of politically interested students with a passion for change. For me, as a student who knew almost nothing about student politics only one year ago but, through hard work, got elected to my faculty council with 52 votes last year, I do see that things have changed. Hopefully, whatever the result of this year's elections, things continue to change for the better.
The struggle to win elections is one that requires passion and energy, but not only that- it also necessitates a belief that whatever happens, whether you win or lose, you will have done something more valuable than just showcase yourself as a candidate. No, it demands firm policy beliefs, strong core principles and values that push you to rise above the fray. Let me tell you, during my time in my faculty council I have had plenty of struggles. However, that is precisely why it is so important to have fighters, to have people with your values, who pick up their sleeves and run for council elections. Because change is not something that you should hope for. It is something for which you have to actively engage.
Charles de Groot