The candidate you elected as your councillor
for the academic year 2020-2021: Charles De Groot
---
Meet NovUM's candidates for the FASOS Council
and read what they stand for!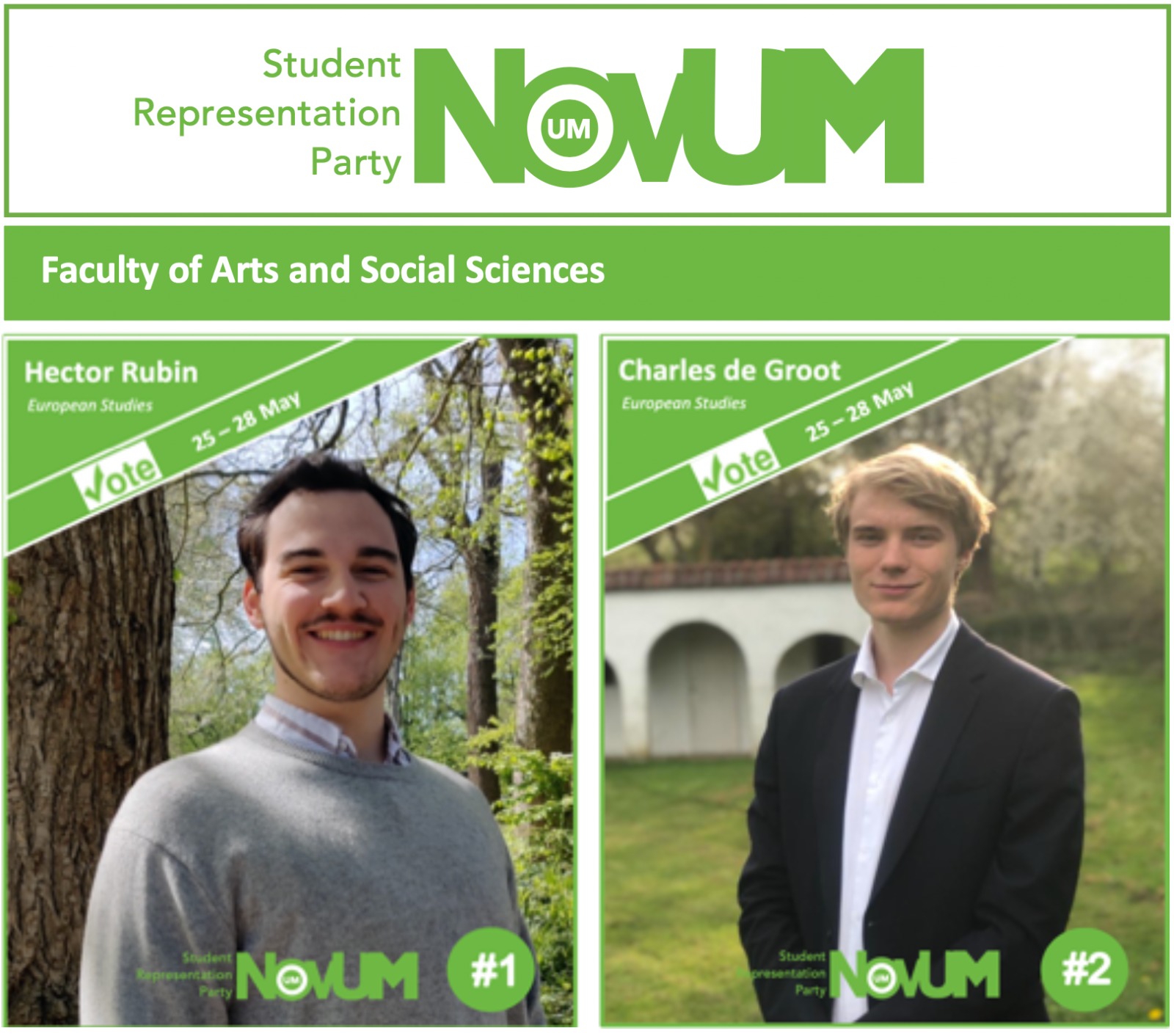 Manifesto 2020
Dear fellow FASOS students,
We are very happy to be presenting you with the entirety of our manifesto. Our faculty, and indeed the whole university have this year gone through 2 major crises. First, in late December we were hit by the widespread hacking, and whilst it had many repercussions on our faculty support system, we successfully came out of it. Now, with the coronavirus, NovUM is lockstep behind the University so that we can once again recover and become the healthy studying environment that we all wish our faculty to be.
What will a vote for NovUM actually get you?
A green faculty, standing up for a sustainable future
The faculty of arts and social sciences has long been a stronghold of progressive thought striving for a green environment. We, as candidates for NovUM, believe that we can not only talk the talk but must walk the walk. Therefore, we will promote the use of recycling paper for our faculty printers (such as is possible in the ICL). In addition, we will expand gardening opportunities (as done at Banditos in which their garden is cultivated by employees) and provide FASOS and our students & staff the possibility of gardening fresh fruits and vegetables (bike shed and the backyard come of mind).
Online examination proctoring
We are vehemently against software spy systems for online exams. This would cause many privacy violations which are not necessary. We therefore suggest the faculty should resort to implementing open-book exams until we are able to have in- person MECC exams.
Further Internationalisation
We support the concept ''no child left behind''. Thus, all students of our faculty should be able to learn an additional language as part of their second-year course curriculum. The learning of extra language will help students in their careers; therefore, we will fight for your right to learn it.
Secure quality and improve FASOS efficiency
We wish that all students are able to thrive, and therefore seek to stop the never-ending loop of resits and help students stress levels by improving the curriculum calendar. Therefore, with Novum, we will try to implement a resit week as done in other faculties. Hereby, students subjected to resits will have their ordinary and resit exams separated by 1 week (those who passed on the first try will have a week of free time). This will greatly aid students to cope with stress by giving them more time to study or just to relax.
Additionally, we believe that lectures and tutorials should be separated by at least 1 day to ensure that all students have time to reflect on the lecture and be able to work on their tutorials. This would in practice signify that the lecture is meant as an introduction to a topic, whilst in the tutorial, you will dive deeper into the subject.
Furthermore, we with NovUM will strive for an online lecture recordings policy. At the council, we will make sure that all courses are equipped to make lecture recordings (SBE lecture hall already has the capability). This will provide students who have an auditive study memory the opportunity to work and understand the content of their subject to their full potential.
Improve FASOS leisure
As a personal favorite, we will try to get a hot chocolate and coffee vending machine in GG80. Furthermore, we will stand at the faculty council for ensuring that we have enough quality study rooms at our faculty. This will create a healthy environment of peers in which students from the same class can discuss work together.